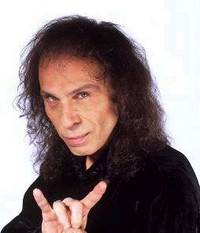 While [lastfm]Ronnie James Dio[/lastfm] was not on our playlist on KOOL-FM, he definitely qualifies as a celebrity.  Ronnie died on Sunday.  So, time to add him to the latest CDT (Celebrity Death Trifecta).
Ronnie James Dio was a "heavy metal god."  He was the first lead singer of [lastfm]Rainbow[/lastfm] in the 70's.  Then, in 1980, he replaced [lastfm]Ozzy Osbourne[/lastfm] in [lastfm]Black Sabbath[/lastfm].  Later in the decade, he started his own band, [lastfm]Dio[/lastfm].
Last Summer, Dio revealed he was suffering from stomach cancer.  Yesterday morning, it took Ronnie's life at age 67.
For those not keeping track like the sicko that *I* am, Ronnie wraps up the latest CDT.  This one had a pattern.  Each of the deaths occurred one week apart.
5/2/10: Lynn Redgrave (Actress)
5/9/10: Lena Horne (Actress/Singer)
5/16/10: Ronnie James Dio (Singer)
CLICK HERE to check out some of my previous blogs on Celebrity Death Trifectas.  It may be morbid…but it's true!