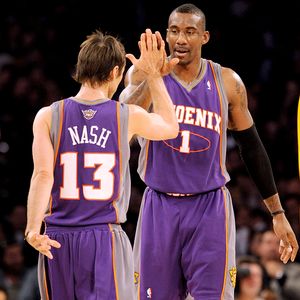 It looked GREAT!  Then, it looked IFFY.  And, with 5 minutes left in the game, it looked GREAT again.  That's because they brought Steve Nash back in after sitting out most of the 4th.  I think Steve and Amare Stoudemire can do ANYTHING.  I want to hire them to paint my rec room!
So, the Suns made it past the Trail Blazers!  They were so good, it looked as though Portland had phoned in a few games.  But, now it's time to get serious.  Say hello to the San Antonio Spurs.  Maybe you've heard of them?
Granted, we have a better record this season.  But, this is the team with 16 division titles, 4 conference titles and 4 championships!  They constantly take things all the way, and this year is no exception.  So, I am trying to find a way to be confident without being cocky!
Games 1 and 2 are here at the US Airways Center Monday and Wednesday.  As of 11:30AM Friday, there ARE seats available.  They range from $30 to $2000.  Rafters to the floor!  Click the seating chart below to find your seats!