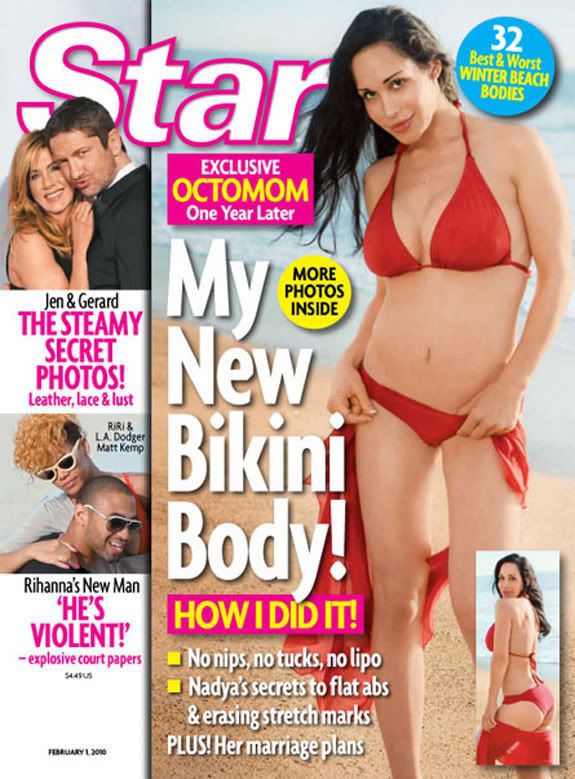 Looks like Octo-mom is in octo-trouble.  If you thought birthing 14 children was difficult, try raising them without a home!  Do YOU have 15 extra bedrooms in your house?  Want some guests?  Come on…show your generous side!  The alternative is NOT good.
Nadya Suleman's house will be foreclosed on if she doesn't make a $450,000 balloon payment by the end of the day.  Amer Haddadin, who sold Suleman the La Habra, California house, reportedly sent an e-mail to Dr. Phil!  Hey, the doctor is always in…right?  In his note to the producers, he says, "Dr. Phil and Oprah took personal interest in the steps that led to Nadya moving to the house. I have a hope that both Dr. Phil and Oprah will help me in timely and fair solution."  This man truly goes to the top to get his dough, doesn't he???  According to TMZ, an Oprah reps says, "Oprah has not financially assisted Ms. Suleman in the past and has no plans to do so in the future."
Short of your rolling out the red carpet, there seems to be one other option for Octo-Mom.  Vivid Entertainment has offered to pay the half-mil if she agrees to star in one of their "feature films."  I think you know what their films feature.  And, frankly, I've seen more than enough of Nadya already.  So, I beg you…Dr. Phil…Oprah…PLEEEEEEASE help me (er, uh Nadya) out!